On July 13, 2023, I was contacted by a family asking for assistance feeding their horses. I had previously reached out to them on May 31st, because a follower had seen the horses and voiced great concern. I left a voice message at the only phone contact I had in May, letting them know we would try to assist if possible but the elderly gentleman didn't check his voice mails until July. The horses I was told about were thin in May, so I was very concerned it had been six weeks with no call, how thin they were now.
We completed an application for our Hope's Legacy Equine Emergency Food Fund and scheduled an appointment with them the next morning to come to the rescue and get some hay and feed. As it turns out through the application process I learned these horses came from a well known rescue in the Phoenix area and when the people called that rescue for help or to return the horses, they were told no. That rescue said they were full and turning other people who called away too. They also told me they had volunteered for that rescue as did their kids, donated to the rescue before moving to Snowflake, AZ, and they offered to adopt two older equines when they moved up here, but when the delivery people showed up two years ago, they unloaded four horses and would not take the extra two back.
So not only were two extra horses dumped on them, when the contacted the rescue explaining they were struggling to feed all four, they were given no help whatsoever. No wonder they were hesitant to call us.
Upon the families arrival here at the rescue, they shared the photos with me. They are not the best, but they show two of the horses so skinny their spine, hips, pelvis and ribs are all showing, making them a body condition score of 2 - emaciated. The other two horses are also thin, but have a enough retained muscle to be considered a body condition score 3 - very thin.
We spent several hours going over each horses dietary needs, how to calculate and measure the feed and supplements by weight, discussing 24 hour access to forage (hay), fresh water with electrolytes since our tempurates are hovering around 100 degrees and other important factors in getting weight back on each of them.
We sent them away with hay, Purina Enrich Plus ration balancer, electrolytes, probiotics, a 50lb salt lick block, buckets, slow-feed hay nets, buckets, feed scoops, etc., and very detailed instructions on what to feed, how much to feed and when to feed. We also purchased bags of pellets from Tractor Supply and have since then purchased more.
Our goal is to get the weight back on these four horses and find new homes for them. Normally the horses would come here for their rehabilitation but this family loves these horses and is doing a good job following our detailed instructions and cooperating to the fullest which is a great help to us at the rescue. Here are their pictures.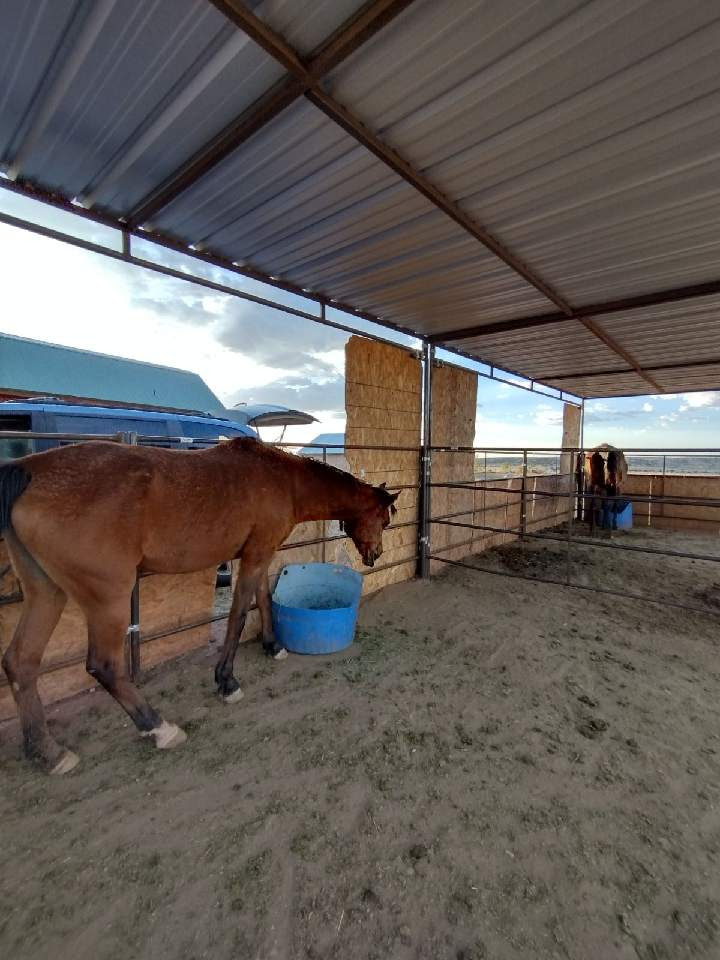 So far in feed, hay and supplements we have spent $895.94, the buckets, feed scoops, hay nets, electrolytes, etc., came out of our inventory. I know this is asking a LOT, but we are trying to raise $2000, which is $500 per horse, so they can gain enough weight for us to find them good homes. The two thinnest may take a little longer and need a little more unless a great home with a big heart steps forward and takes over their care and feeding.
This is a desparate situation, this elderly couple cannot afford the horses dumped on them by another rescue, the wife has a job waiting for her in Florida so they will be selling their house and moving. We want to help these horses, who through no fault of their own have been malnourished for over a year. I am furious that the other rescue refused to take the horses back or even assist with feed, but I can't focus on my anger, I chose instead to focus on what we can do right now and going forward to help each of these horses get their health back.
If you would please consider a donation to help it would be so appreciated. No amount is too small and every dollars will make a big difference for these horses. If you can or know of someone who can offer a home to one of these horses, please reach out to me. Three are Arabians and one is a Thoroughbred, all are in their late teens or 20's and a few are still rideable. Coco and Layla are the two emaciated mares, Cashmire and Amy are thin, but not emaciated. These sweet souls need our help both to regain their health and find homes.
To help these sweet mares, click the Donate button below to make a tax-deductible donation and THANK YOU so very, very much!!!! We will keep you updated on how they are doing and as we hopefully find homes for them soon.
Working together we can change their lives......
EQUINE WELLBEING RESCUE INC
8369 Buckskin Trl
Snowflake, AZ 85937